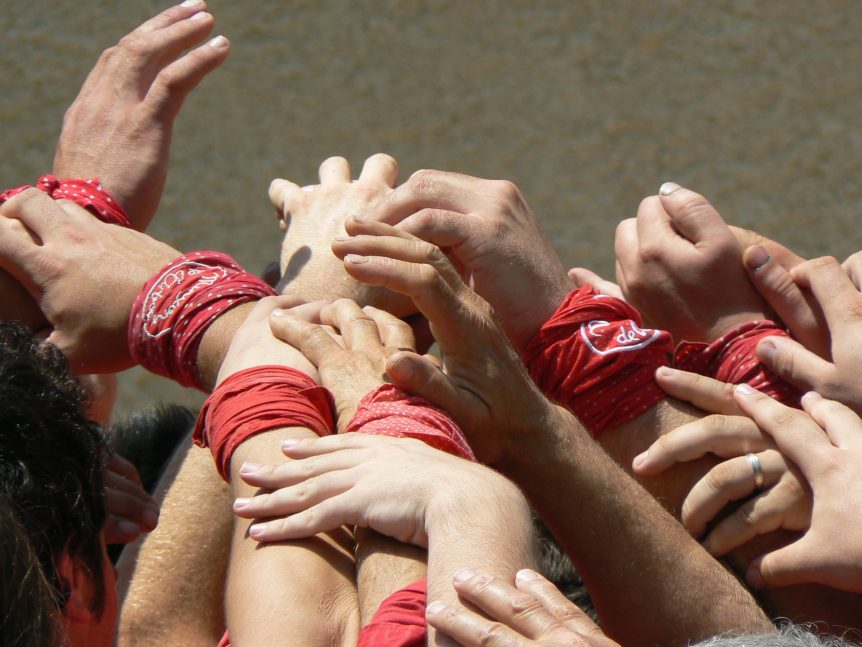 In 2010 Catalonia's 'castells' were inscribed on UNESCO's Representative List of the Intangible Cultural Heritage of Humanity. 'Castells' are human towers built by members of groups known as 'colles castelleres' to mark festivities and celebrations. The towers are often built in front of the town hall balcony according to a short piece on the tradition written for UNESCO. There are also 'castells' tournaments where groups from across the region come together to compete in front of large audiences and a judging panel. As stated on the iNews website, these towers normally reach ten levels or 30 feet.
The 'castell' is divided into three sections which are listed on the UNESCO page for this tradition. The first is the 'pinya' and comprises a large group of people on the ground who are charged with supporting the structure that goes up above them. Once this base layer is deemed strong enough then a band will strike up with traditional Catalan music and the rest of the tower will be built. The next section to go up is the 'tronc', often made up of various different levels each of which has about five or six people. Then we move into the 'pom de dalt', the three highest levels of the 'castell' which are usually built by children. The very last person to climb the tower and the one who signals its completion by making the 'aleta' is known as the 'enxaneta'. As the child raises their hand the musicians play the 'toc d'aleta' and then the process of dismantling the tower begins.
In the video below you can see the art of building human towers in action:
To watch a short report in English on the tradition, take a look at the video below:
According to Katie Stagg's piece on this part of Catalan culture, Valls is the town where building human towers originated. Jessica Jones' history of the development of the 'castells' tradition is more complete and you can read it here. She notes that 'castells' have surged in popularity over the last few decades because of a rise in Catalan nationalism and also the admission of women from the early 1980's into the 'colles castelleres'. There will soon be a museum dedicated to 'castells' in Valls so if you are interested in learning more and find yourself nearby, be sure to find out more about this new learning space here.