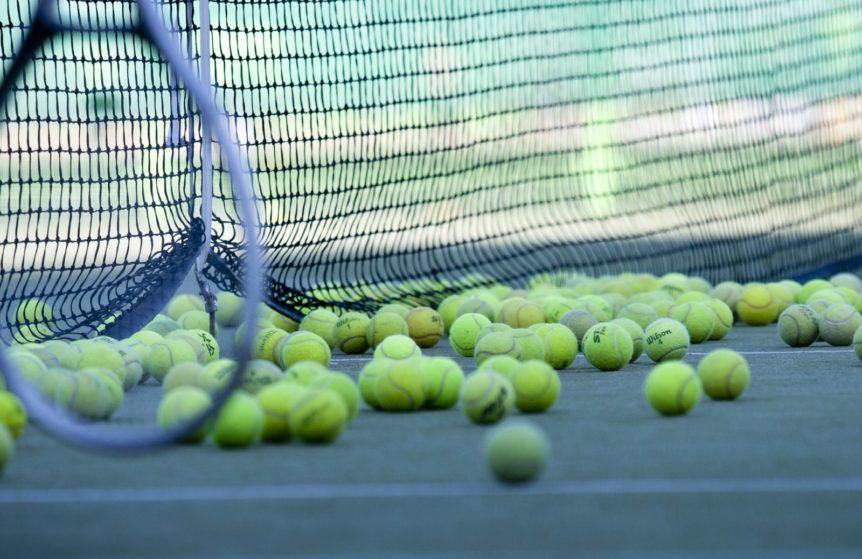 By: Harriet Cook
This year's tennis tournament at Wimbledon may well be over, but, as happens every year, tennis vocabulary has crept in to many of our daily lives. Using just under 55,000 balls each year, reaching over 1 billion people across 200 territories and welcoming 39,000 visitors per day according to data published on the tournament's website, Wimbledon is an iconic sporting and cultural event. Turning on the BBC at any point over the past few weeks you were bound to be greeted by sports commentators dissecting tennis players' every shot and examining match scores, but what kind of vocabulary would we be hearing if we turned on the TV in another country? For this post we've looked at some of the most common terms, their origin and how they're translated into other languages.
Ace
Perhaps one of the trickiest shots to execute successfully in a game of tennis, an ace is declared whenever the opponent is unable to make contact with the ball the server has served. The International Tennis Hall of Fame say that it was Allison Danzig, credited as the first journalist to focus solely on tennis, who coined the term 'ace' in the early twentieth century. French and Italian both use the English word, while German and Spanish translate it differently. In German 'ace' is translated as 'Aufschlag'; this is a specific word reserved for sports while 'ace' in English can be interchanged between a game of cards and a game of tennis. Spanish opts for a 'saque directo', which can be translated literally as a 'direct service'.
Ball boy / ball girl
Wimbledon says it trains about 250 Ball Boys and Girls, BBGs, each year, most of whom come from local schools and are 15 when they apply. The role of BBGs is certainly not to be underestimated and data published this summer in the Metro newspaper says that BBGs reach almost the same number of steps per match as the players themselves. In German, a ball boy is a 'Balljunge' while a ball girl is a 'Ballmädchen', which directly corresponds to the English formula of ball + gender. The same kind of formula can be found in French where a ball boy is a 'ramasseur de balles' and a ball girl a 'ramasseuse de balles'. In Italian and Spanish, 'racattapalle' and 'recogepelotas', respectively, can be preceded by either the masculine or feminine pronoun to make it clear whether referring to a ball boy or a ball girl.
Wimbledon still refers to Ball Boys and Girls on its website, but other tournaments have started to adopt the term 'Ball Kids': the BNP Paribas Open, for example, has opened applications for Ball Kids, and Roland Garros specifically refers to ball kids in a post on its website.
Deuce
A score of 40-40 in a tennis match is known as deuce. Intriguingly the origins of this term are widely attributed to French - the BBC state that it comes from the French word for two, 'deux' - but 40-40 in French is known as 'égalité', which can be translated literally as 'equality'. In their post on tennis vocabulary, Glossophilia note that many believe the term deuce comes from 'à deux le jeu', a French expression that could either mean that both players have the same score and an equal chance of winning the game or that both players need two consecutive points to win the game. In Spanish they either use 'deuce', 'cuarenta iguales', literally 'forty equal', or 'iguales', while in German deuce is translated as 'Einstand'.
Game, Set, Match
Every tennis match is made up of two to three sets, each of which is comprised of multiple games. Most tournaments have different scoring systems, but when a winner is declared, English-speaking commentators will pronounce 'game, set, match'. In French it is 'jeu, set et match', in Spanish 'juego, set y partido', in German 'Spiel, Satz und Sieg' and in Italian 'Game, set e partita'.
Lob
Hitting the ball high over the net is known in English, French, German and Italian as a lob. In Spanish, however, this shot is known as a 'globo', which we can literally translate into English as a balloon.
Love
When a player has a score of zero in a game of tennis, their score is 'love'. According to Speaking of Animals by Robert A. Palmatier, the term 'love' comes from the French word for egg, 'l'oeuf'; the French saw similarities between the shape of an egg and that of the number 0. As the New York Times note, some historians believe the word was corrupted by English pronunciation and later became 'love'. Interestingly, it is only in English-speaking countries that 'love' is still used, others opt for zero. For more theories on the origin of 'love' in tennis take a look at this article on the New York Times.
If you're interested in listening to tennis match commentary in the language you're learning, it is a good idea to head to Google and see if there are any radio stations where you can listen to the match online; there might even be some TV channels that stream their commentary internationally.