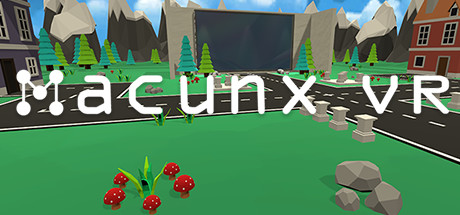 Good news: Macunx VR has now been submitted to the gaming platform Steam and approved for release! Once approved, an application has to remain listed as "coming soon" for a couple of weeks before it can be released. So, we will be announcing the public release in mid June. Find us on Steam here.
For this first version of the software, we will release the "Free Build" mode and the application will be free to use. You will be able to create spaces, add mnemonics, and customize the look and feel of your memory palace in a variety of ways. Initially, Macunx VR will be available for the Oculus Rift and HTC Vive.
Creating a New Memory Palace
Spatial Creation
- Build square or round rooms
- Build walls
- Modify height, thickness, color, or texture of walls
- Build fences
- Build floors and platforms
Adding Rooms
Memory Structures
- Add 3D Macunxes directly from the build menu
- Add quincunxes
- Add pedestals
- Customize the size, shape, and orientation of all memory structures
A Macunx Memory Structure
Mnemonic Creation
- Search for mnemonics through menu
- Add 3D models from Google Poly
- Add 2D images from Pixabay
- Add your own custom images from desktop
- Modify size, position, and orientation of all mnemonics
Adding Mnemonics
Mnemonic Added
Our developers, Aleksandar and Milos, have worked incredibly hard to create an application that has all the functionality necessary to build really useful memory palaces. In addition to all the functionality of the Free Build version, the developers have already set up the infrastructure necessary for additional features and for the guided modules we will create for all our existing language training programs.
We are releasing the Free Build version as "Early Access" to gather as much feedback as possible so we can make any improvements necessary to ensure the software is running as smoothly as possible.