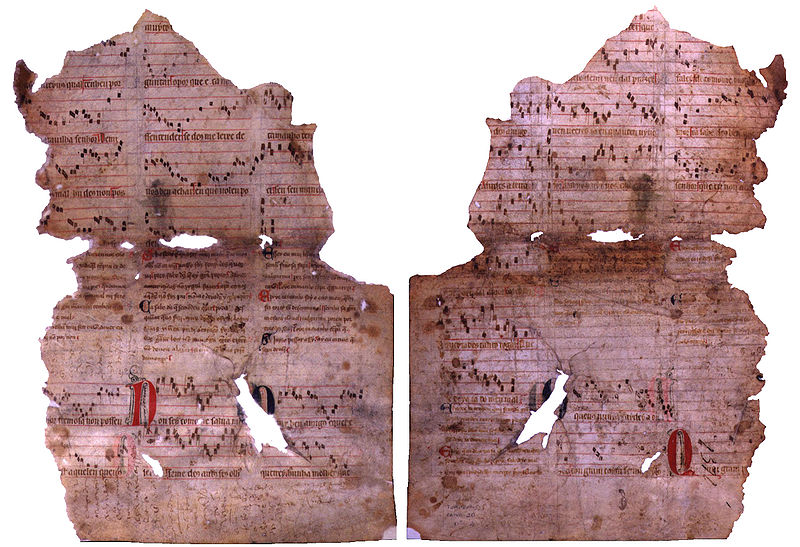 By: Harriet Cook
We dedicated a recent blog post to the history of the Pergamiño Vindel ahead of its arrival in Vigo for an exhibition at the Museo do Mar. In this week's post we wanted to focus on one of the other manuscripts that conserve medieval Galician-Portuguese poems, the Pergamiño Sharrer,
This manuscript was discovered in 1990 by an American scholar called Harvey Sharrer as he was working in the Torre do Tombo archives in Lisbon on the Bibliography of Old Portuguese Texts, a catalogue of the primary sources for the study of the culture and language of medieval Portugal and Galicia. It was as he was looking for parchment bookcovers containing fragments of Old Portuguese texts that he discovered what is now known as the Pergamiño Sharrer. A full account of his discovery can be found here, but perhaps the most poignant moment in this article is his description of what happened when he realised that in front of him was a set of medieval Galician-Portuguese love songs composed by Don Denis; he writes 'Tears came to my eyes as I considered the significance of the discovery'. The article goes on to explain how he then transcribed the poetry, telephoned several colleagues to tell them the news and began his work towards publishing the manuscript and announcing its discovery to research communities.
The discovery of this manuscript was certainly an exciting one given it not only transmits seven Galician-Portuguese songs, but also some of their musical notation. As we noted in our previous post on the Pergamiño Vindel, very little musical notation has survived to this day and so these insights into troubadour lyric are particularly exciting and necessary for researchers working on the culture of medieval court lyric, not only that written in Galician-Portuguese but also that found across Europe in the Middle Ages.
The parchment contains seven male-voiced love songs, cantigas de amor, apparently composed by Don Denis, along with snippets of musical notation. While these songs can also be found in the Cancioneiro da Vaticana and the Cancioneiro da Biblioteca Nacional, it is only here that we find them accompanied by their notation. Since their discovery, many groups have interpreted the songs using the words and the notes that survive thanks to this manuscript. Below is an example of how the cantiga 'A tal estado m'adusse senhor' might be interpreted according to the Pergamiño Sharrer: